Next Page of Stories
Loading…
Page 2
Next Page of Stories
Loading…
Page 3
Next Page of Stories
Loading…
Page 4
City Hall You must be this tall to ride this ride. You could feel it building for months. Long delays
From the Morning Memo: Western New York Assemblyman David DiPietro got the Pence treatment Thursday evening from a group of
Police on the scene on Moore St. near Humbolt St. in Brooklyn where a man was shot seven times – he later died at the hospital. A 29-year-old man has died after being shot seven times during a clash in Brooklyn, officials said Wednesday.
Brooklyn Ballet announces its spring season, Roots & New Ground 2, sequel to its outstanding 2015 Roots and New Ground season. A multidisciplinary Dance Company rooted in ballet and dedicated to the vibrant diversity of both Brooklyn and the dance world, Brooklyn Ballet continues to present artists working in an array of movement forms.
Acting Brooklyn District Attorney Eric Gonzalez – a member of the Puerto Rican Bar Association – is refusing to take a stand on the Puerto Rican Day Parade's controversial honoree, Oscar Lopez Rivera , the former leader of an extremist group believed to be responsible for the deadly bombing of Fraunces Tavern. Gonzalez – who became the borough's district attorney following the death of Ken Thompson last year – will not attend the parade, campaign spokeswoman Lupe Todd-Medina said, declining to comment on whether Gonzalez supports the choice of organizers to honor the FALN radical separatist.
Next Page of Stories
Loading…
Page 5
THE LEDE: Hello, and happy Fleet Week ! This morning, we see the effects of the opioid epidemic seep into a specific Crown Heights community, and the Danes are filling a niche in the borough . Then, several high profile NYC organizations are pointedly RSVPing in the negative to the Puerto Rican Day Parade , and more than one change is afoot for the NYPD these days.

Patch.com

NYC Restaurants To Try This Weekend

Patch.com

NEW YORK

,

NY

– Eating out in

New York

City can be a daunting prospect. With new restaurants opening virtually every day, keeping up with the best spots to try isn't easy — but Patch is here to help. Every week, we'll showcase recently opened places in …
See this story at BrooklynPaper.com.
By Colin Mixson
Brooklyn Paper
Everyone is invited to this garden party.
Caretakers of Prospect Park are asking community members for ideas to revive the Rose Garden, a once-vibrant patch of Brooklyn's Backyard that has withered due to years of neglect.
"It was almost a botanic garden before the Brooklyn Botanic Garden opened," said Prospect Park Alliance spokeswoman Deborah Kirschner. "But the park went through periods of decline, and the Rose Garden fell into disuse."
The agency, working with local environmental planning group Hester Street Collaborative, will host a workshop on June 10 at which park lovers can tour the garden and suggest new plans for the space, which sits near the Vale of Cashmere, inside a 26-acre parcel that is now being revitalized with the help of four weed-munching goats.
The barren Rose Garden will then, according to another Prospect Park Alliance rep, be planted with 7,000 pinwheels for an exhibit that opens July 7.
"There will be an art installation as a way of getting people up to the area," Lucy Gardner said.
The garden's use has varied since the Prospect Park opened 150 years ago. The green space's designer, Frederick Law Olmsted, designated the area as an oasis for borough tots named the Children's Playground and for years it was filled with Victorian-era playthings that included the park's first carousel, which was drawn by real horses.
Park honchos then hired the architectural firm McKim, Mead, and White around the turn of the 20th century to transform the playground into the Rose Garden, which was then the park's crowning botanical achievement.
The city built fountains in the garden in the 1960s, but they quickly broke down and the area began its decline into disuse.
The space is now a garden in name only, and while park workers diligently maintain the quiet patch, it does little to attract patrons, according to Kirschner.
"A lot of people don't even know it's there, and that's what made us interested in making it more amenable to the public," she said.
The agency will identify which new Rose Garden ideas it will move forward with in the next few months, then move on to the design phase, Gardner said.
Read the whole story
· · ·
See this story at BrooklynPaper.com.
Brooklyn Paper
Friday
May 26
Comic strip
Thrill to an evening of stupendous striptease at the annual Wasabassco "Super! Heroes vs. Villains" show. The gloves will come off (and so will the capes, the tights, and the boots) as heroes with fantastic figures — including host Nasty Canasta, pictured in easily-removed armor — bare it all to battle a colorful collection of burlesque baddies!
8 pm at Littlefield [622 Degraw St. between Fourth and Fifth avenues in Gowanus, (718) 855–3388], www.littlefieldnyc.com]. $25 ($15 in advance).
Saturday
May 27
Dead beats
It's the club people are dying to get into! Party in the cemetery by joining Green-Wood Cemetery's "Secret Mausoleum Club," an intimate late-night experience that will involve exploring two mausoleums, and celebrating figures in amusement park history through music, dance, drinks, and stories of those entertainment impresarios buried nearby.
9 pm at Green-Wood Cemetery [enter at Fort Hamilton Parkway and Micieli Place in Kensington, (718) 768–7300, www.green-wood.com]. $100.
Monday
May 29
Hot diggity!
Chow down on the original hot dog! Feltman's of Coney Island returns to the spot where it originated the sausage-in-a-bun 150 years ago — just down the street from newcomer Nathan's. The first 150 people in line will get a free dog — the rest will have to shell out $4.25 for the eight-inch, all-beef frankfurters.
Noon at Feltman's of Coney Island (Surf Avenue at W. 10th Street in Coney Island, www.feltmansofconeyisland.com). $4.25 (free for the first 150 people).
Tuesday
May 30
Against the wall
Grab a margarita and settle in for the latest edition of Jamie Hook's live talk show "The Hook." Tonight's guest will be Mexican-born Greenpoint conceptual artist Jorge Cruz, discussing his plan to build "The Phantom Wall," a wall made out of light along the US-Mexican border — and have the Mexican government pay for it!
7 pm at Pete's Candy Store [709 Lorimer St. between Frost and Richardson streets in Williamsburg, (718) 302–3770, www.petescandystore.com]. Free.
Thursday
June 1
Black in style
Your summer wardrobe could use some sprucing up, so get inspired at the Brooklyn Museum's celebration of black dandies, men with an eye for bright colors and retro, fabulous fashion. The night will feature film, music, and a panel discussion with Shantrelle P. Lewis, author of the photo collection "Dandy Lion: The Black Dandy and Street Style" (pictured).
6:30–9:30 pm at Brooklyn Museum [200 Eastern Pkwy. at Washington Avenue in Crown Heights, (718) 638–5000, brooklynmuseum.org]. $16.
Read the whole story
· · · · ·
Next Page of Stories
Loading…
Page 6
Next Page of Stories
Loading…
Page 7
Next Page of Stories
Loading…
Page 8
Next Page of Stories
Loading…
Page 9
TAORMINA, Italy (AP) — In the Middle East, President Donald Trump was feted with pageantry, the leaders of Saudi Arabia and Israel seemingly in competition to outdo the other with the warmth of their welcomes and the depth of their pledges of cooperation….
FBI homes in on Trump's son-in-law Jared Kushner in Russia probe http://dlvr.it/PF8Y3T 

FBI homes in on Trump's son-in-law Jared Kushner in Russia probe

A series of meetings between a Russian banker, the Russian ambassador and Kushner are raising eyebrows at the FBI

salon.com
ICYMI: Ten things you should eat in #BayRidge  http://www.brooklyneagle.com/articles/2016/8/31/ten-things-you-should-eat-bay-ridge … #Brooklyn pic.twitter.com/5QvJ1LSzag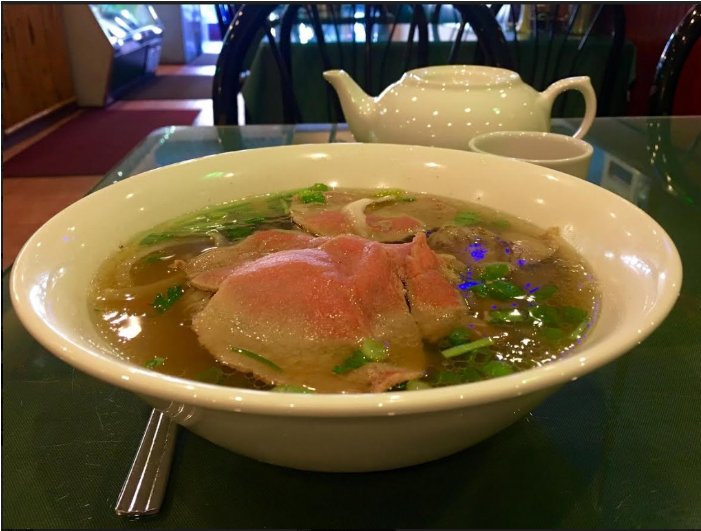 Food, glorious food.
There are scores of palate-pleasing treats in Bay Ridge restaurants and bakeries. To whet your appetite for the culturally diverse fare in the southwest Brooklyn waterfront neighborhood, we've made a short list of 10 things you should try.
Our list is lacking in leafy green vegetables — but we promise you, plenty of salad is served in Bay Ridge. For instance, Nature's Grill (7417 Third Ave.), a health-conscious restaurant that's everybody's go-to place for fresh juices and smoothies, dishes up a really good pear salad.
When you're not noshing, you'll need a nice long walk to work off some calories. See related story for suggestions about where to go and what to see in the neighborhood.
* Middle Eastern: Try the cauliflower steak at Tanoreen (7523 Third Ave.) — which was rated New York City's Number 1 Middle Eastern restaurant by Zagat in 2013. The prestigious Michelin Guide has included chef/owner Rawia Bishara's restaurant in its Bib Gourmand list of top-quality restaurants with two-course meals plus a glass of wine or dessert for $40 or less.
The crave-worthy cauliflower, covered in a crunchy coating of panko and Parmesan cheese, is jazzed up with tahini sauce, sweet pomegranate molasses and harissa.
Beloved Bay Ridge restaurant Tanoreen serves up cauliflower steak.
* Turkish: There's tasty chicken doner, also called chicken gyro, at Hazar Turkish Kebab (7224 Fifth Ave.) — the chicken is cooked on a rotating spit and well-seasoned.
Chicken doner from Hazar Turkish Kebab.
* Scandinavian: The cakes at Leske's (7612 Fifth Ave.) are tempting.
The bakery was launched a half-century ago, when a heavy concentration of Norwegian-Americans lived in Bay Ridge. It closed in 2011 but was reopened the following year by new owners, one of whom was a baker who had worked at Leske's.
Let Them Eat Cake. This one's from Scandinavian bakery Leske's.
* Greek: Order the baklava at Omonia Café (7612 Third Ave.), a Zagat-listed Greek dessert mecca.
* Italian: Have the sweet capicollo, mozzarella and long-stem artichoke sandwich at Paneantico  Bakery Café (9124 Third Ave.), a hugely popular Bay Ridge eatery that's also Zagat-listed. The server will bring out a bottle of Roso Balsamic Glaze reduction — a sauce that's thicker than salad dressing and instantly addictive. Be sure to use it.
The umbrellas are out at Paneantico Bakery Café.
* Central European: The Korzo Burger at farm-to-table restaurant Brooklyn Beet Company (7205 Third Ave.) has langoš, which is Slovak bread, wrapped around it instead of a bun. This meat lover's entrée was on the Village Voice's 2011 list of New York City's best hamburgers.
* Vietnamese: The beef pho — which is rice-noodle soup, as of course you know — at Pho Hoai (8616 Fourth Ave.) was on the Daily News' 2012 list of the best pho in New York City.
Time for lunch at Pho Hoai, a Bay Ridge Vietnamese restaurant.
* Irish pub: The chicken pot pie at the Wicked Monk (9510 Third Ave.) is really good.
Behold the chicken pot pie at the Wicked Monk.
* Italian: Have the Nutella-banana pancakes at Pasticceria Rocco (9402 Fourth Ave.), an offshoot of an Italian pastry shop in the West Village.
Pancakes at Bay Ridge's Pasticceria Rocco.
*  American: Try the bagel with fresh lox and cream cheese at Bagel Boy (8002 Third Ave.), which is  another hugely popular neighborhood institution. By the way, the shop's rainbow bagel is a big seller.
Somewhere Over The Rainbow. From Bagel Boy in Bay Ridge.
This handsome Harley-Davidson is parked outside the Wicked Monk.
Read the whole story
· · · · · · · · · · · · · · · ·
Next Page of Stories
Loading…
Page 10
Next Page of Stories
Loading…
Page 11
The Brooklyn Bridge is 134 years old. pic.twitter.com/F466Sln3da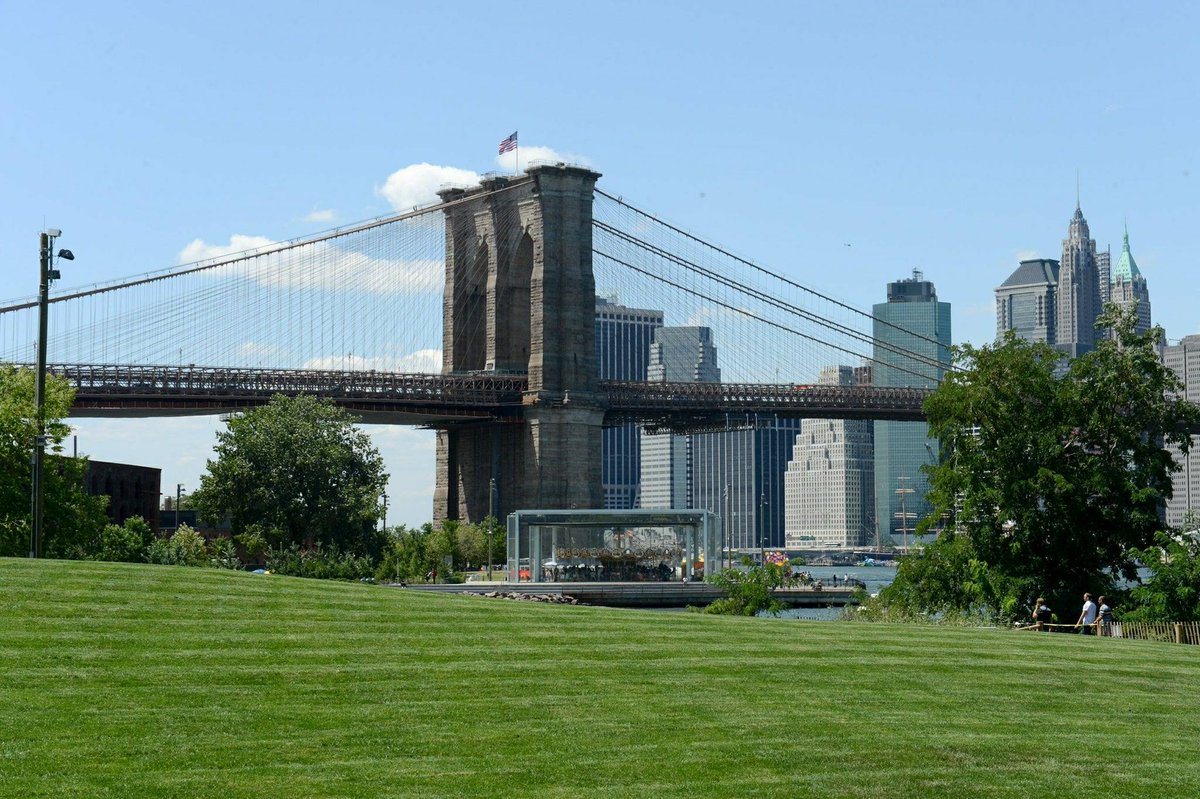 In 1969 a young artist in Turin named Giulio Paolini took as his personal motto the Latin inscription—itself a quotation from Nietzsche—at the foot of an early Giorgio de Chirico self-portrait: Et quid amabo nisi quod ænigma est [And What Shall I Love If Not the Enigma]. He made the phrase into his own business card and transformed it into a public manifesto by placing it on an enormous banner hung across the main piazza in Como. This was his contribution to Campo Urbano, the public art intervention staged that year by Luciano Caramel in collaboration with Ugo Mulas and Bruno Munari, which invited artists out of their studios and galleries to engage directly with the urban environment, the spaces of daily life. For Paolini, it was the beginning of a decades-long fascination with de Chirico's oeuvre, which Paolini has referenced, cited, and interrogated in his conceptual practice—artwork that is now the subject of the fourth season at the Center for Italian Modern Art (CIMA), which places paintings spanning much of de Chirico's career together with works by Paolini from the 1960s to today.
This phrase "And What Shall I Love If Not the Enigma" was a touchstone as well for Philip Guston—Dore Ashton said he quoted it all his life; and it was a prompt for Sylvia Plath, too, who wrote several poems inspired by de Chirico paintings, as did Mark Strand, John Ashbery, and others (Ashbery also translated parts of de Chirico's surrealist novel Hebdomeros). I love that Louise Bourgeois and her husband, the art historian Robert Goldwater, together dedicated themselves to translating some of de Chirico's writings. De Chirico's work has beguiled and bedeviled a surprising number of artists and writers.
Many—most famously the Surrealists—focused only on the output of that brief decade of the 1910s, de Chirico's Metaphysical period—the fertile musings of an artist profoundly connected to dreams and existential questions of being. It is, in fact, hard to think of another artist so heralded as a genius whose subsequent half-century-plus output has been so creatively and derisively condemned. André Breton wrote in 1928 that he and other the Surrealists "[having had] spent five years now despairing of Chirico, forced to admit that he no longer [had] the slightest idea of what he is doing." William Rubin, in his 1982 MoMA catalogue, called the later work "a tragedy that turned into a farce." And in the Brooklyn Rail in 2004, Robert C. Morgan speculated about a "weird, uncanny disorder" that the artist must be suffering from:
"With the unbelievably stupid characterizations of Titian, Rubens, Watteau, Corot, and Hals, one can only ask: where is this artist going? What is the work really about? Had the biochemical industry been more advanced at mid-century, perhaps the master might have benefited—Prozac by day, Viagra by night, or vice versa."
And yet for many artists, such as Guston or Warhol or Paolini, de Chirico's later work has been a vital source. His practice of self-citation, copying, and appropriation or pastiche, his flamboyant self-portraits in Baroque costume, appeal to our postmodern sensibilities, our fascination with camp and the "bad painting" that emerged in the 1980s—observations first brilliantly articulated by Emily Braun in her essay "Kitsch and the Avant-Garde: The Case of de Chirico."
There are still few opportunities in the United States to see any of de Chirico's post-Metaphysical paintings, however—a legacy of the canonical narrative first shaped by the Surrealists and reinforced in the U.S. by exhibitions such as Alfred Barr's Dada, Surrealism, and Fantastic Art at MoMA in 1936 and William Rubin's Giorgio de Chirico at MoMA in 1982. Likewise James Thrall Soby's 1941 book on de Chirico treated only the early works, disregarding his subsequent career—"left it out of the family album," as artist Lisa Yuskavage succinctly put it.
CIMA was created to engage fresh narratives, to draw attention to 20th-century Italian artists who have generally remained outside the canonical accounts of modern art, accounts that, in the U.S., have historically tended to the Franco-centric. Exhibitions at CIMA are laboratories for an art history fellowship program and platforms for programming that offers other points of access to the works—through artists, writers, scholars, and the like. Most of all, the hope is to offer a different experience of great art, one based on the idea of close looking and engaging with the works in an intimate, contemplative space, over a period of time. Looking opens us to transformation, roots us to the present, while opening windows to other moments in history, to a thread of common humanity and creation. The act of close looking makes us better critics, better historians, and maybe better humans. In these pages are contributions from some of our fellows, and from the poets, painters, and scholars who have looked to de Chirico and who have participated in this season, wrestling with "the enigma" and helping us to see in new ways.
Read the whole story
· · ·
| | | |
| --- | --- | --- |
| Helène Aylon sat down with Ann McCoy at the Brooklyn Rail's Industry City headquarters to discuss her upcoming traveling exhibition, Afterword: For the Children (Hadassah-Brandeis Institute and Kniznick Gallery, Waltham, Massachusetts, March 20 – June 16, 2017; Jerusalem Biennale, October 2017). | | |
---